People normally go on exchange experiences with some kind of idea about what they will be doing during their time abroad, right? Well, Rahul left India for the first time ever, thinking he knew what to expect… He was wrong.
For me, I knew that I would be introducing and sharing my Indian traditions, cultures, lifestyle. That, and generally informing the classes I worked with about what the current situation in India looks like. Sounds pretty simple and straightforward, doesn't it?
Guess what…
There was so much more
that no one told me about!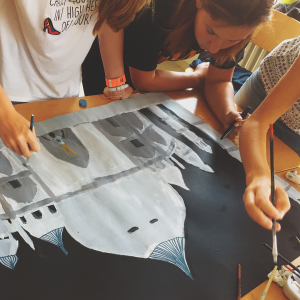 I came with ideas in mind about the information I would deliver, but no one told me how much I would get out of  this entire journey! I learned a great deal through the act of teaching itself. I saw and worked in many schools, made friends with the students, and better understood different methods of teaching.
Living in hostels and with host families, was one of the things that both challenged and influenced me the most. No one told me that my accommodation would also be a learning space. But, I am so glad it was! I got to learn from people coming from different corners of the world. The main takeaway was focusing on:
Living a happy life & simply enjoying "now"
This learning is something that I've been able to apply to various areas of my life and has contributed to my own personal growth.
I feel a lot of internal happiness and gratitude when I think back to my time abroad. Hearing how the teachers, students, AIESECers and the friends that I made in the project appreciated my presences and contribution meant a lot to me.
My time in Prague  was without a doubt, the craziest experience of my life. It was my first time travelling outside India and it was nothing short of amazing.
I lived and enjoyed some of the best moments of my trip with people I met from all over the world. Together we shared a bond of love and friendship through the experiences we created. Through travelling and exploring I made some of the best memories of my life. You can't put a price on an experience like this. It was worth every penny for me.
Again, no one told me about any of these unexpected and fulfilling aspects that became part of my experience. Maybe that's because they themselves didn't know… Looking back, I could also say that everything that happened was a mixture of the people, the project and my choice to make my experience all that I wanted it to be. My biggest thank you goes out to AIESEC for providing me with the best experience I've ever lived. I can't wait to get back out there and continue to do more!
Live an experience like this yourself by finding an opportunity on aiesec.org.
6