Hiruna Samarakoon is a third year engineering undergraduate from university of Peradeniya. He went to the Netherlands for his job experience of six months. This is his story!
Since joining college, I have always wanted to go abroad for my third-year internship.
As an engineering undergraduate, I had witnessed a few of my seniors going abroad through AIESEC. Therefore, I thought of going for a Global Talent opportunity, one of AIESEC's products.
Global Talent is an internship experience for young people aiming towards professional career development in a global setting. We can gain experience in new work settings, equip ourselves with skills needed cross-culturally and bring a fresh perspective for companies.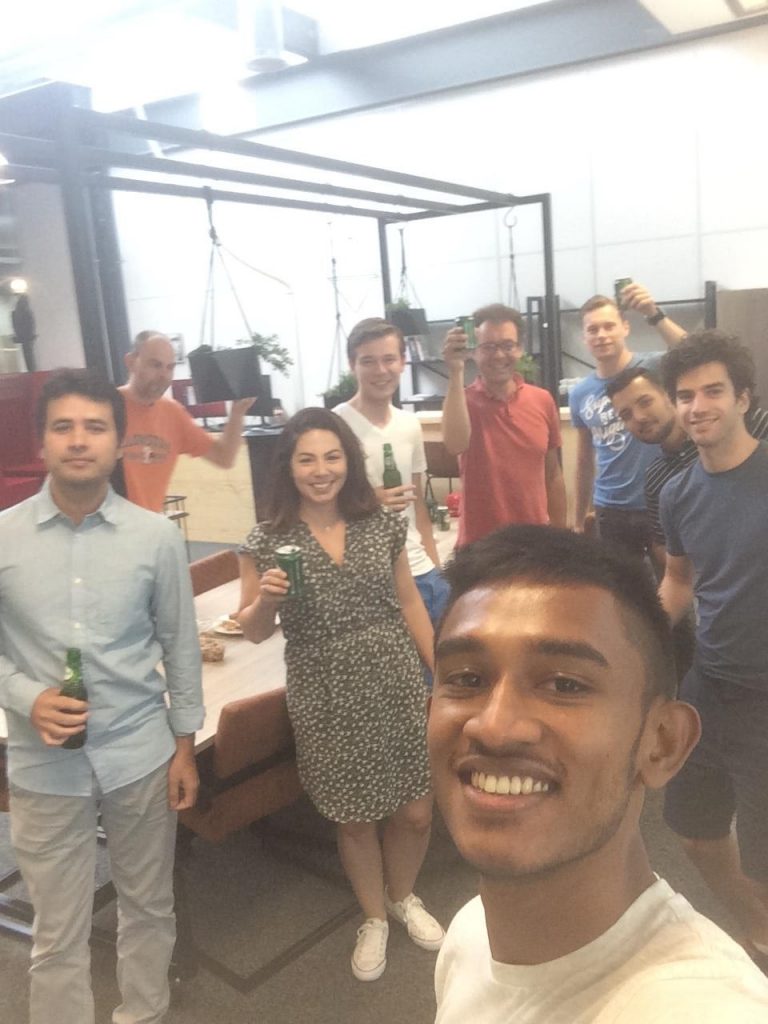 Applying for Opportunities
I started applying for opportunities on aiesec.org, I found ten jobs which were suitable for me, out of which three companies shortlisted me.
One of the top universities in the Netherlands contacted me for an interview.
The AIESECers sent me sample questions and answers and prepared me for my interview. Within thirty minutes of the interview I was selected as a software developer, A.K.A, my dream job.
Once I accepted the job, I had to go through the visa process. Fortunately, my team leader supported and advised me throughout the process. And soon I was ready for the Amsterdam winters.
Life lessons in the winter
Despite a few setbacks, I landed in the Netherlands on the 15th of February 2019. Since I went through AIESEC, I had already made some Dutch friends. They helped me with my paper work and finding accommodation.
When I got to my room I was freezing and the heater in my room was broken. And since it was a weekend, I could not get it fixed. I really wanted to come back home. None of my friends who were mechanical engineers knew how to fix the heater. After much trouble I fixed the heater myself. Thus, my learning experience began.
I did not only experience snow for the first time in my life, but I also tried ice skating. I felt sad that my friends and family could not experience the feeling of floating around in the ice.
The city itself was picture perfect, everybody was friendly and welcoming. People used to wave and shout "good morning". Furthermore, the friendliness of the people truly helped me to settle down.
Instead of cars and traffic, everybody used bicycles to travel. Cycling through the forests and parks were my favorite part of the day.
My dream Job
Being a software developer means everything to me. It is, after all, what I aspire and dream to be. Through this opportunity, I got closer to my goal and it helped me understand more the job of my dreams.
The first day at work was quite interesting, I was learning to develop facial recognition for day to day activities in a leading company.
Everyday I felt more energetic and inspired to work. Sometimes, I worked till late in the evening. It was a nice cozy place to work. I took part in Stand up meetings for the first time. And used SDK (software development kit) in major software. Later I got involved in management projects as well.
The work experience I got is closely related to the path that I want to follow. I got a hands-on experience on how to manage a big data science project. Since we were handling sensitive private data, we had to align with the GDPR. I learned the legal aspects and what outcomes it would bring to such a project.
My European Adventure
During my stay, I ran into two of my friends, who were doing their internships in Antwerp, Belgium. I travelled around Europe with them. Some of the places we visited are Paris, Berlin, Antwerp and Amsterdam.
Paris, just happens to be the most beautiful city that I've ever been to. The architecture was quite breathtaking. I would recommend anyone travelling to Paris to visit the Eiffel Tower, the museums and parks.
As for Germany, we visited the castles and the Berlin wall. We also enjoyed Curry-wurst, a German origin fast food, and other traditional dishes.
It was not hard to communicate with natives in any of these trips, since most natives spoke fluent English.
Saying Goodbye
In the last few days, I handed over my work and did a presentation of all that I had accomplished in the six months. It made me realize the hurdles that I jumped through, in getting used to the new environment and the people and how much I have grown in my career.
Though the first two weeks were tough, I learnt to become independent and live alone. Not only did I gain work experience from this job but I gained life experiences, I have learned to associate with people and I have become more open minded. I have learnt to become more sensitive to the people around me and to be more inclusive.
This AIESEC experience has made me a changed being. Most importantly, it got me a step closer to reach my life goal.
This is my story of professional and personal growth, what are you waiting to live yours?
Sign up on aiesec.org today!
22