These are my personal reflections as a young leader representing a global organization.
" This is my open letter to all young people who wake up doing something that they love and those who long for a purpose or an opportunity to devote their time to something impactful, something meaningful. I just had one of the best weeks of my year and also my life.
I had the huge privilege to represent aiesec and young people by speaking at the Panel on Rewiring and Transforming Education through Cross-Sectoral Action. Being the youngest person on the panel, I felt a deep responsibility to best represent the views of young people the best and the role that young people have in driving change. We decided to keep it simple at the end of the day – to talk about what we know in aiesec- experiential leadership development. 
"Personally, Throughout the past decade, I've spent working with young people in Australia, Bangladesh, and now Canada and being in teams with people from all around the world including Mexico, Tunisia, Mozambique, Romania, and more. I've realized the best way to develop young people is by putting them at the center of the programs or initiatives that we would be delivering. To empathize, to share responsibilities, listening, and collaborating with young people are key.  I know that I wouldn't have gotten to where I am today if it weren't for the people before me. Previous team leaders who believed in me when I didn't even believe in myself yet.
My story is one of 30,000 members annually go through AIESEC's leadership development model and thereby go through an experiential leadership experience.
Individual Goals & Responsibility
Support System
Challenging Role & Environment
Interaction with multiple stakeholders
If we are able to provide young people with these 4 key elements and thereby facilitate an inner journey, our future generations are all set to lead."
Being part of this and many other rooms in the past week was a humbling experience. There were countless moments of pure joy, gratitude, and wonder. It further reaffirmed the strong belief that I have that young people have a role in a better future, and that leadership is a non-negotiable to continue building the better world that we all deserve.
Reflecting back on the experience that I've had with aiesec, I couldn't be more grateful for the platform that it was for me to realize that leadership can be developed. The platform for me to realize that leadership was also for me. The events of the past week, it further solidified these commitments on how I want to be living my life.
Enjoy the journey as much as the destination 
If you're not enjoying it then it's not worth it. I don't mean just the good times, enjoy the moments that you're struggling with, enjoy the moments that come after learning from the mistakes. Don't take for granted the people that you are working with, it will be very rare that you will be surrounded by these people again. 
Surround yourself with cheerleaders and challengers 
Being obsessed with learning through all its forms, whether in books, podcasts, formal, informal, or informal and this includes people. People who are on your team challenge your worldview, cover your blind spots, give you real feedback, and don't let you settle.
Do things that matter with people who matter 
Keep finding something that gives you energy. Something that would make you happy to start each day. Be in the same room as people who also share your values and drive for personal growth and positive change. They'll give you the extra boost to just go for it.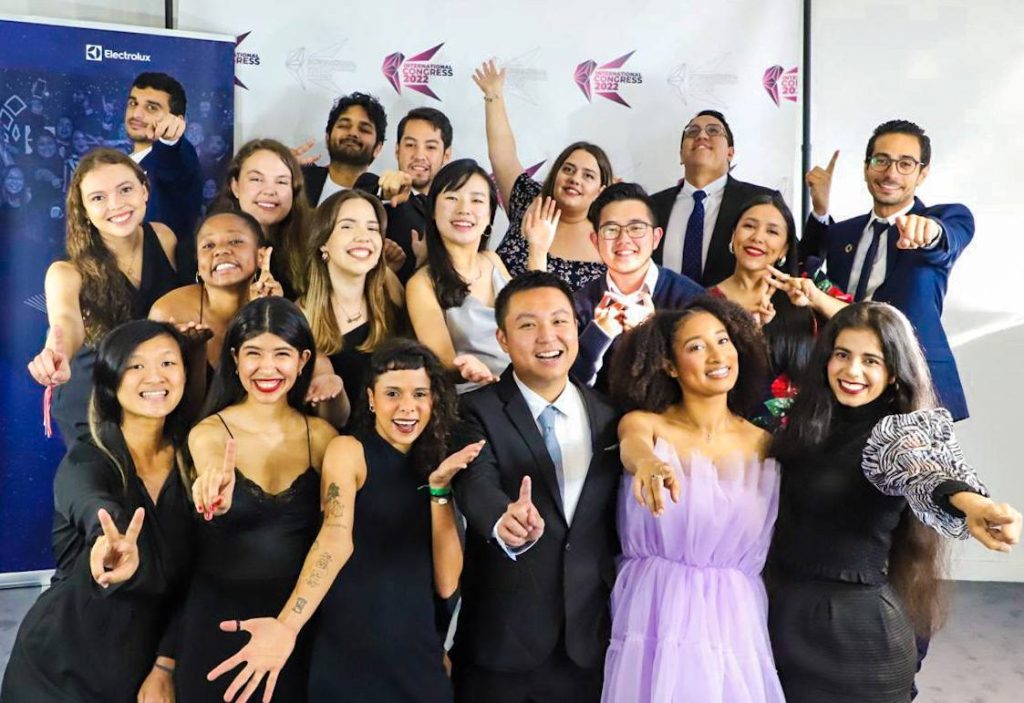 Get out of your comfort zone 
I never saw myself as someone that was a good public speaker, or someone that liked speaking in front of a crowd. However, it's something that I've definitely taught myself to reach a standard required to connect others with what is on my mind.
When I joined my local chapter of AIESEC, I didn't even want to go to a networking event because I was scared to talk to strangers. I never thought I would see myself being someone that would be speaking at the panel of the UN. It stands true that you don't need to be the loudest person in the room, actions always will speak louder than words, and daily actions towards your personal growth will multiply.
If you're scared and excited about what you're doing, then you're probably on the right track. Keep going – this thinking hasn't let me down yet and has made all the difference in creating my most treasured experiences.
10