Once, I've read that your personality changes a little depending on which language you're speaking. Your perception of the world varies due to the vocabulary and your language fluency. It was a great article. But it also happened to completely bring me down as a 19-year-old girl. At that point, I hadn't been fluently speaking any another language.
Polish only, please
Joining AIESEC was an eye-opening experience. Almost 400 flights later, I feel really happy with the decision I made one rainy day of February 2010. Tempted by the slogan of creating a positive impact on society, little did I know that filling a spreadsheet form will turn my life upside down a few years later.
Fast track English for the purpose
I could not believe when I got assigned as project leader after three months with the task of creating volunteering experiences for international students in different NGOs in my city. As it was almost impossible in a two months timespan, I got five people to help me out. After several meetings, we not only found ten spots but also volunteers who want to come and serve the cause. A few weeks later my team was picking up people from Brazil, Venezuela, China, Egypt and Nigeria and our journey of project execution started. Six of us changing the lives of ten internationals and hundreds of orphans in Poland, who had a chance to interact with them and got classes delivered by them.
Spanish for the friendship
A few years later I got selected as president of AIESEC in Mexico. I was the first international president, which got the trust of the Mexican plenary of 52 years to lead them. As a 25 year old, I was pushed to learn the law, finance, budgeting and people management in a country, not my own. But the success did not come with knowledge, it was in communication. All my journey can be simply concluded with: Spanish speakers live happier lives…and they smile more!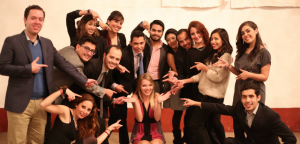 Cross-cultural communication for the peace    
Learning two new languages was one of the very practical skills I gained in AIESEC. Nevertheless, nothing grew me more than working in a cross-cultural team consisting of more than 15 nationalities. On a daily basis I felt challenged, I felt out of my comfort zone, I felt like I was growing.
AIESEC gave me the courage of saying; "you can be better, but you are enough" and made me addicted to the feeling of stretching myself and learning new things.
Your turn
So the next time you see a small girl beating herself up because she does not know how to speak a different language, create a design, code … or a boy who does not feel confident in public speaking, excel at a skill or plays football..as Dave Willis once said, "be an encourager. The world has plenty of critics already."
33