In Youth 4 Global Goals: The Series Season 2, sponsored by PwC, 10 young people went across the globe on an AIESEC Global Volunteer experience to contribute to the Sustainable Development Goals. Read the story of Larissa Mansur from Brazil, who went to Myanmar to contribute to Sustainable Development Goal 4: Quality Education.
So often I would read or hear about a tragedy in the world and I wondered, how can I, at my early twenties, do something that can actually help the world? Do I need to be an important political leader? Do I need to become a CEO or create my own company? I'd get frustrated because this would take so much time and I wanted to do something now. Can I actually do something relevant now?
If I have to put my volunteering experience in Myanmar in one learning would be this: don't strive for happiness, strive to be a good person.
This project lead me to Myanmar, where I spend six weeks volunteering for Sustainable Development Goal 4: Quality Education in a monastery, teaching english to kids and monks from all over the country. Each class was an english lesson for them and a life-lesson for me.

Did you know that in Myanmar many monasteries have schools that are run solely with volunteer teachers? There, kids and monks have the opportunity to learn about different topics and it's all with the support of kind-hearted Burmese people that share and teach whatever they can. With as little as nothing, everyday, the students will sit in an improvised classroom and work so hard to learn everything they can from you!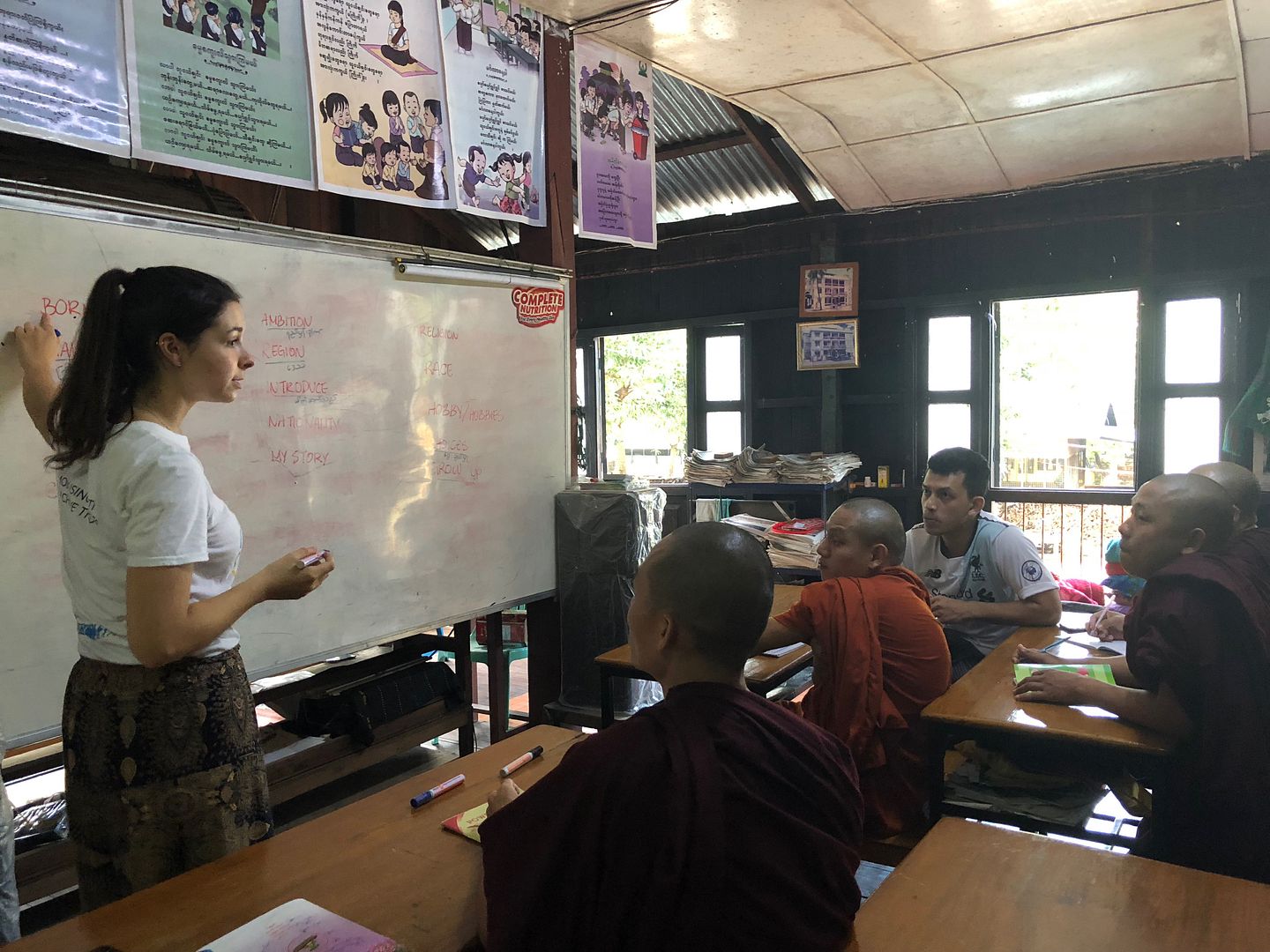 Your age doesn't matter – your power to do something is bigger than you think, don't underestimate it!
Being able to contribute to SDG 4, quality education, made me realize  how education can change one's world. Being able to communicate in another language and have access to information gives someone freedom to have their own choices and power to change their lives! I realized how all over the world, people without any resources would still find a way to learn. While borrowing an english book from one of the monks, I saw that every word, of over 400 pages, had its burmese translation written, by hand, on the top of it! People will learn english researching word by word even if they don't have a teacher, but can you imagine the difference it makes just by having someone to support in any way?
In the last day of my project, a monk came to me and told me: your work here teaching me, changed my life and now I will be able to teach english to the kids in my village, and their lives will change too.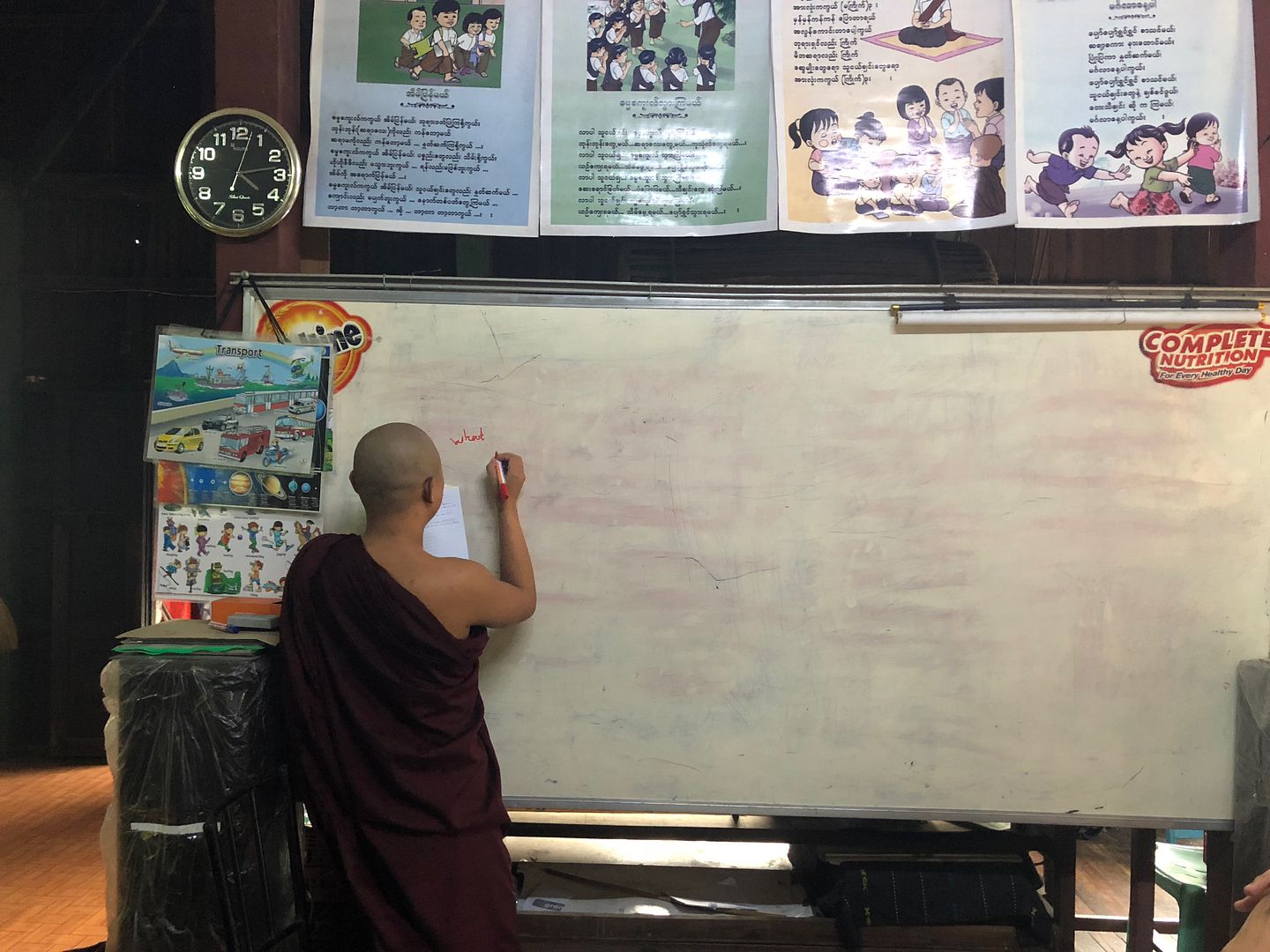 The first step to change the world is to change someone's world
Looking back, I can say that my volunteering experience changed my life not in one major moment, but day by day, in each small and mundane action. Being surrounded by Burmese people made me experience how kind and humble a population can be. Burmese will always share whatever they have, they will invite you to their home and help you even if you don't speak the same language. This little profs every day restored my hope and faith and taught me that religion, gender, color – divisions should not put us apart, because deep down we are all humans with the same need: to live a happy and fulfilling life.

What I'm most grateful for is to have the opportunity to learn that when you do good, you make people around you happy— this allows you to be truly happy as well. And there is nothing more impactful and life-changing than that.


Wealth can be measured in different ways. When it comes to its people, Myanmar is one of the richest places I've ever been to! Yet, the number of monasteries and schools with high need of support is just to big, and one person alone is not enough! Take the chance and change the (your) world.
Would you like to know more about my journey? Have a look at Youth 4 Global Goals: The Series! Would you like to live an experience like mine as well and create an impact for the Sustainable Development Goals? Sign up and become a Global Volunteer yourself!
10