Montreal, Canada, Dec 20, 2022 – December was a historic month for AIESEC with its external representation on global stages. With the much-awaited UN Biodiversity Conference (COP 15) being held in Montreal from 7th-19th December 2022 and the Committee on NGOs Consultation at the United Nations Headquarters on 13th December 2022, it was a month full of impactful dialogues.
The UN Biodiversity Conference (COP 15)
It was a unique opportunity for AIESEC to be headquartered in a city hosting a COP. The AIESEC International Team surely made the most of it with their partners and strategic alliances. One of the key highlights was hosting two Climate Ideation Clinics together with EY, focused on facilitating design thinking spaces to create sustainable and scalable solutions for the burning climate crisis. The two clinics were held on 7th & 8th of December at the EY Office in Montreal.
Another key highlight was AIESEC being invited as a panelist for the high-level dialogue on Young People's contribution towards the global efforts for biodiversity conservation where Louise Kim – Global President of AIESEC, represented AIESEC on the panel with representatives from the WWF, EY, YCPA, the Chinese Consulate & other experts in biodiversity conservation. Louise talked about global volunteer projects that AIESEC runs in 10+ nations on climate action, and biodiversity on land and underwater. She also emphasized the importance of giving young people more opportunities to develop themselves so that more young minds can be mobilized toward addressing the issue. These projects of AIESEC were also showcased at the virtual exhibition hosted by Montreal International in the Virtual Reality space.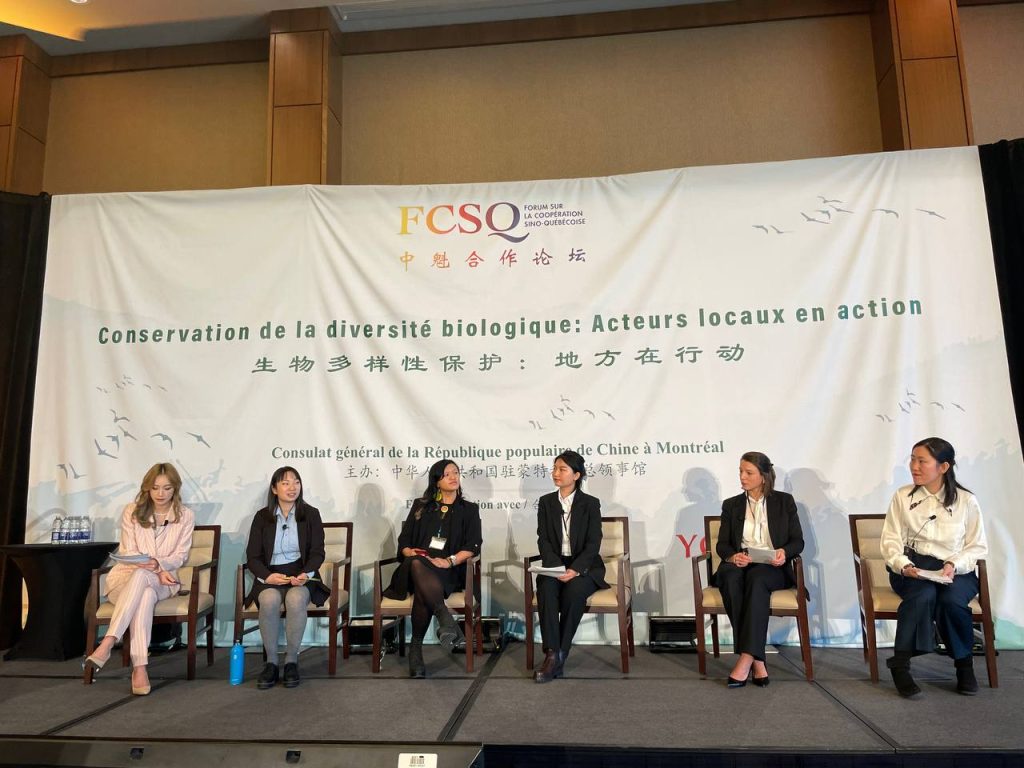 From left to right: Serena Zhang – President, Young Chinese Professionals Association, Zihan Cai – Experiential Learning & Internship Office, McGill University, Louise Kim – AIESEC's Global President 2022, Chao Liu – Postdoctoral research fellow at Department of Plant Sciences University, Maryne Jay – Environmental Consultant at EY Canada & Shiyao Shan – Senior Consultant at the Convention on Biological Diversity Project, WWF at the High-Level Panel, UN Biodiversity Conference 2022
AIESEC wrapped up its engagements at COP 15 with a speech at the COP's China Pavilion, represented by Alysha Alva – Global Head of Public Relations 2023 at AIESEC. Alysha addressed the high-level event about the urgency for action toward biodiversity conservation and for decision-makers to bring more young people to the table.
On the Screen: Alysha Alva – Global Head of Public Relations at the China Pavilion, UN Biodiversity Conference 2022
Committee on the NGO's Consultation at the United Nations
Being an ECOSOC-accredited organization, AIESEC concluded its final external representation of 2022 with an address at the United Nations Headquarters for providing recommendations at the ECOSOC during the annual Committee on the NGOs Consultation, represented by Sumedha Tanwar – Global Head of Public Relations 2022 at AIESEC. Sumedha addressed the need of member states to give the NGO and Civil Society sector more representation and voice in the decision-making processes, relying on their expertises for more inclusive and sustainable policies. She also provided the recommendation to the UN, on behalf of AIESEC, that in order for more equitable solutions to the issues being faced by the world right now, the UN should provide the member states with a framework that can be applied in different realities to structure their policymaking processes for more representation by Civil Society and the underrepresented sections of the society.
At AIESEC, we work on localizing our global strategy to 100+ nations' realities, and every day we see examples of how much impact young people and the NGOs can make if given the right platform to do so. While the reality on the ground for every member state is different in terms of the resources, the UN can support by recommending a framework to the member states on how to actively include the NGO sector in policymaking.

– Sumedha Tanwar, AIESEC's Global Head of Public Relations at the United Nations Headquarters
Sumedha Tanwar – Global Head of Public Relations speaking at the United Nations Headquarters, New York. Curious to watch the recap of the session? Watch it here. (AIESEC's address at 01:06:00 timestamp)
2022 has been a crucial year for AIESEC to bring more representation for young people on the global stage. With engagements at more than 20 high-level global events during the year, AIESEC aims to drive the exact drive for making youth heard in 2023 – its 75th year. To learn more about our activities throughout the year, follow us on Instagram and check out AIESEC's website.
……………………………………………………………………………….
About the UN Biodiversity Conference 2022 (COP 15)
7-19 December 2022 in Montreal, Canada, governments from around the world came together to agree on a new set of goals to guide global action through 2030 to halt and reverse nature loss. For more information about the UN Biodiversity Conference, visit: https://www.unep.org/un-biodiversity-conference-cop-15.
About AIESEC:
AIESEC is a global platform for young people to develop their leadership potential through international internships and volunteer opportunities. Since AIESEC was founded in 1948, the organization has engaged and developed over 1,000,000 young people globally through international placements and membership opportunities. AIESEC is a youth-run, non-governmental, and not-for-profit organization in consultative status with the United Nations Economic and Social Council (ECOSOC), affiliated with the UN DPI, member of ICMYO, and is recognized by UNESCO.
For more information, please contact: Sumedha Tanwar, Global Head of Public Relations & Communications Responsible for 2022 , AIESEC International sumedhatanwar@ai.aiesec.org
5