Capturing 70 Years of Leadership for Peace
AIESEC launches its official History Book
Montréal (Canada), January 2019 – AIESEC, in partnership with ING, launches its official history book, capturing the story of an organization with a 70 year legacy of developing over 1 million young leaders across the world with a united vision to Strive for Peace and Fulfillment of Humankind's Potential.
An Obsession for Peace
"Why I worked so hard to create and foster AIESEC? I had the strong Obsession de la Paix – Obsession for Peace" says Jean Choplin, founder of AIESEC. In 1948, after the Second World War, he was one of the young people who was convinced that peace is possible and that youth have a fundamental role in achieving it.

(The Presiding Table at the 3rd Annual AIESEC Congress in Paris, 1951)
As relevant as ever
Today, 70 years after that initial belief that gave birth to AIESEC, this vision and the obsession for peace remains as relevant as ever in a rapidly changing world. In today's hyper-connected world, as we make progress, we face problems that are more complex. Today, young people are recognizing that facing these complex issues – from climate change to the future of work – building cross-cultural understanding remains of paramount importance. It is exactly this that drives the actions of thousands of young people in over 120 countries and territories where AIESEC continues to act as a platform for positive change.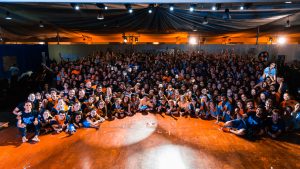 (The global AIESEC plenary at the 2018 International Congress in Egypt)
Developing culturally sensitive and capable young leaders has always been at the heart of the organization. The leaders AIESEC has formed over the past decades are empowered to stand up for what they believe. They make a difference through their everyday actions and inspire the actions of others to create a world where everyone can work towards their own understanding of peace while respecting and understanding the view of others.
Created by AIESEC International, in cooperation with AIESEC Alumni International, AIESEC Alumni- Alexander Flieger and Sibylle Hecker and sponsored by ING, the book captures the essence and progress of an organization which is "forever young, with an incredible capacity to reinvent itself" (Abdelrahman Ayman, Global President for the term 2017-2018). This History Book serves as a testimonial of the power that young people have to solve the world's biggest challenges and the responsibility they take to create the better tomorrow for themselves and for generations to come.
From bringing the youth of otherwise separated nations together after 1948 to committing to advance the Sustainable Development Goals by 2030 and beyond,  members of AIESEC have come a long way in achieving their vision of peace over the past 70 years –  and it is honoring that collective effort through publishing the organizations History Book.
AIESEC invites you to take a trip back in time by following the growth of the organization from its founding in 1948 until today. A link to the AIESEC History Book can be found, here: http://aies.ec/aiesechistorybook
About AIESEC:
AIESEC is a global platform for young people to develop their leadership potential through international internships and volunteer opportunities. Since AIESEC was founded in 1948, the organization has engaged and developed over 1,000,000 young people globally through international placements and membership opportunities. AIESEC is a youth-run, non-governmental, and not-for-profit organization in consultative status with the United Nations Economic and Social Council (ECOSOC), affiliated with the UN DPI, member of ICMYO, and is recognized by UNESCO.
For more information, please contact:
Agnieszka Okroj, Global VP Public Relations, AIESEC, agao@ai.aiesec.org
25