Rotterdam, Netherlands, August 26, 2018– AIESEC, a global youth-run organization activating youth leadership since 1948, is promoting The World Cleanup Day day across 120 countries and territories and encouraging everyone to join to raise global awareness and implement lasting changes to end the global waste epidemic.
On World Cleanup Day, taking place on 15 September 2018, millions of people in 150 countries will stand up against the global mismanaged waste problem by cleaning up roads, parks, beaches, forests, and riversides. Thousands of communities will act as one, creating a powerful 'green wave' spanning from New Zealand to Hawaii.
The aim of the initiative is not just to move towards better waste handling, but also to raise awareness both locally and globally about the severity of the situation. And more importantly – to support and connect a new generation of community leaders ready to act together to find lasting solutions.
"Cleaning the beaches and public areas sounds like something that has already been done. But our mission is not to be cleaning, but to actually get rid of the waste, for good. Humans are the only species able to generate something that is not used by the rest of the ecosystem – waste. 80% of the plastic that floats today in our oceans, has come from the land, so we need to start there by working hand-in-hand with local communities" says Heidi Solba, one of the leaders of the Let's Do It movement and part of the World Cleanup Day organizing team.

World Cleanup Day is a civic action driven by determined people and empowered by technology. During the lead-up to 15 September, the global community is using technology to map the locations, amounts, and types of waste that need to be cleaned up and managed. The World Cleanup app enables anyone to quickly map the waste in their neighborhood, creating valuable data for cleanup organizers and visualizing the mismanaged waste problem on both local and global level. The app also lets users create a cleanup event in a certain area for 15 September, making them responsible for preparing and executing the specific event, including finding the best way to manage the collected waste. The challenge of taking care of the collected waste on 15 September is huge, especially in places without a waste management system in place.

Waste that is created in the streets too often ends up in our oceans. It is estimated that 80% of the waste floating around in the oceans is mismanaged waste carried to the sea through our beaches and waterways. Therefore, working together on land with local leaders, governments, and organizations is the first urgent step in protecting the nature in both water and on land.

The organizer of World Cleanup Day is civic-led mass movement Let's Do It World! It was born in Estonia in 2008 when 50 000 people cleaned up the entire country in just five hours. Since then, the action model—one country in one day—has spread around the world, creating one of the fastest-growing grass root movements in history. To date, nearly 140 countries and 20 million people have already joined the efforts to clean up illegal waste in their neighborhoods.

The year 2018 marks 100 years since the founding of the Republic of Estonia. World Cleanup Day 2018 is Estonia's biggest gift to the world on its 100th anniversary. More information about the centenary events can be found at www.EV100.ee.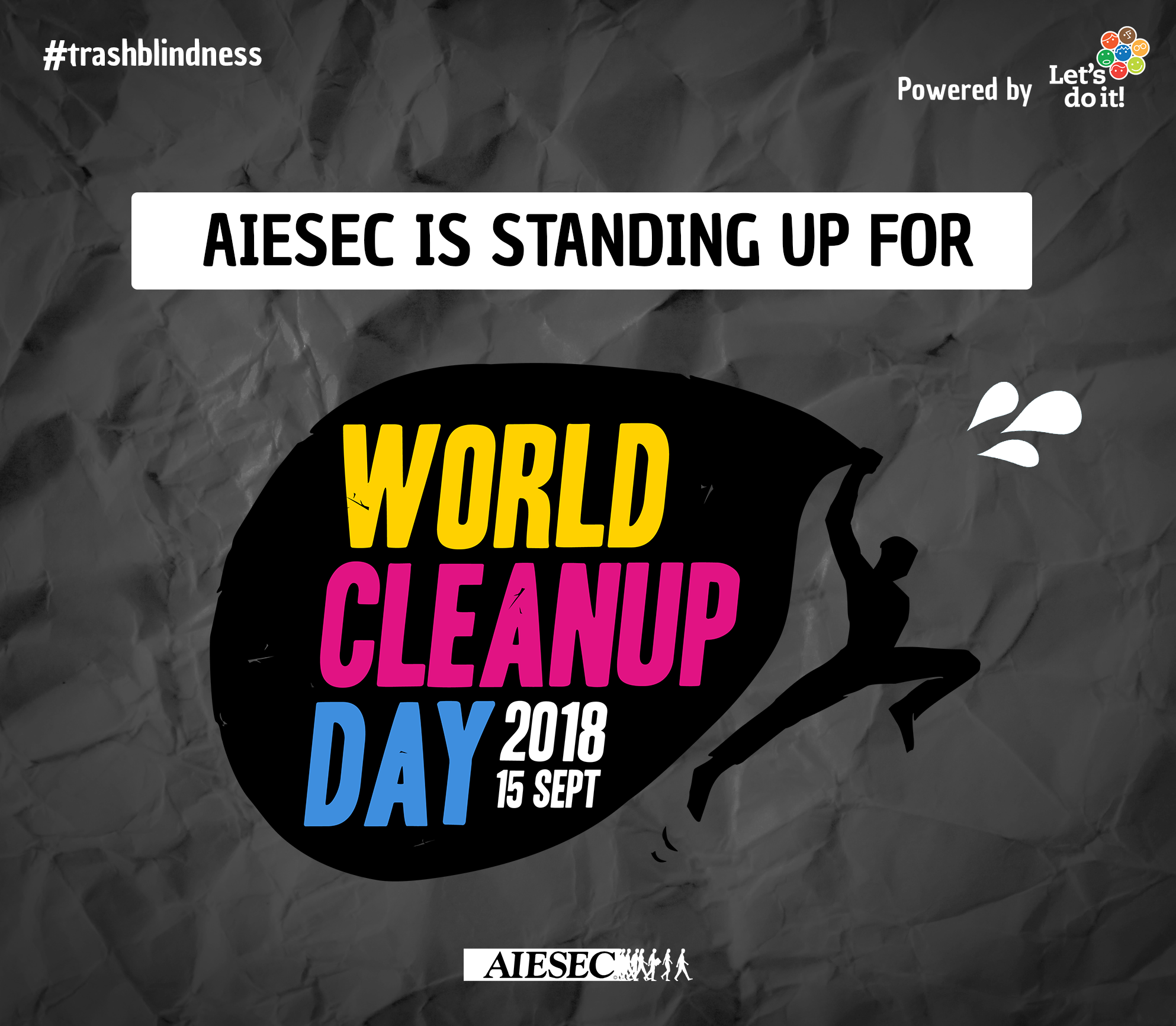 The not-so-fun facts:
● Almost half of the plastic existing today has been produced during the last 15 years. (National Geographic, June 2018)
● Plastic debris tends to accumulate at the center of ocean gyres. The North Pacific Gyre, for example, has collected the so-called Great Pacific Garbage Patch, which is now estimated to be about three times the size of France (approximately from 700,000 to 1,6 million km2).
● Every year 4,8-12,7 million tonnes of plastic find their way into our oceans from the coastal areas and river ways. That is 15 bags filled with plastic waste per every meter for all the coastal lines in the world. If all this waste was put on lined up trucks, the line would stretch around the world 24 times. (Jemma Jambeck, University of Georgia, 2015)
● That also equals dumping the contents of one garbage truck into the ocean every minute. If no action is taken, this is expected to increase to two per minute by 2030 and four per minute by 2050. (Ellen MacArthur Foundation report, 2016)
● From all the plastic ever made, only 9% has been recycled. (Jemma Jambeck, National Geographic, 2018)
● More than 3.5 billion people do not have access to the most elementary waste management services (ISWA, Globalization and Waste Management, 2012)
You can find out more information on www.worldcleanupday.com and on https://www.facebook.com/worldcleanupday2018/.
About AIESEC:
AIESEC (aiesec.org) is a global organization striving to achieve peace and fulfillment of humankind's potential by activating leadership qualities in youth through learning from practical experiences in challenging environments. With offices in more than 122 countries and territories, AIESEC is a non-political, independent, not-for-profit organization run by students and recent graduates of institutions of higher education. Around the world, AIESEC partners with more than 2,600 universities and 8000+ organizations to facilitate professional and personal development experiences for young people across the globe. AIESEC has a consultative status with the United Nations Economic and Social Council (ECOSOC), is affiliated with the UN DPI, is a member of ICMYO, and is recognized by UNESCO.
For more information, please contact:
Agnieszka Okroj, AIESEC, agao@ai.aiesec.org
Tiina Urm, Let's Do It! World, tiina.urm@letsdoitworld.org
6