New York, United States, March 6, 2023 – AIESEC, one of the world's largest youth-run organizations, proudly announces its successful involvement and attendance at the UN Women CSW67 Conference held in New York City this past March. The conference served as a platform to amplify the voices of young women leaders, and AIESEC made a significant impact by bringing one of the most diverse and substantial youth delegations to the event.
For this conference, AIESEC received an overwhelming response, with over 150 AIESECers applying for just 15 spots, resulting in a vibrant and multicultural delegation representing young women leaders from India, the Philippines, Vietnam, Indonesia, Belgium, Switzerland, South Africa, Nigeria, Mexico, the United States, and Canada.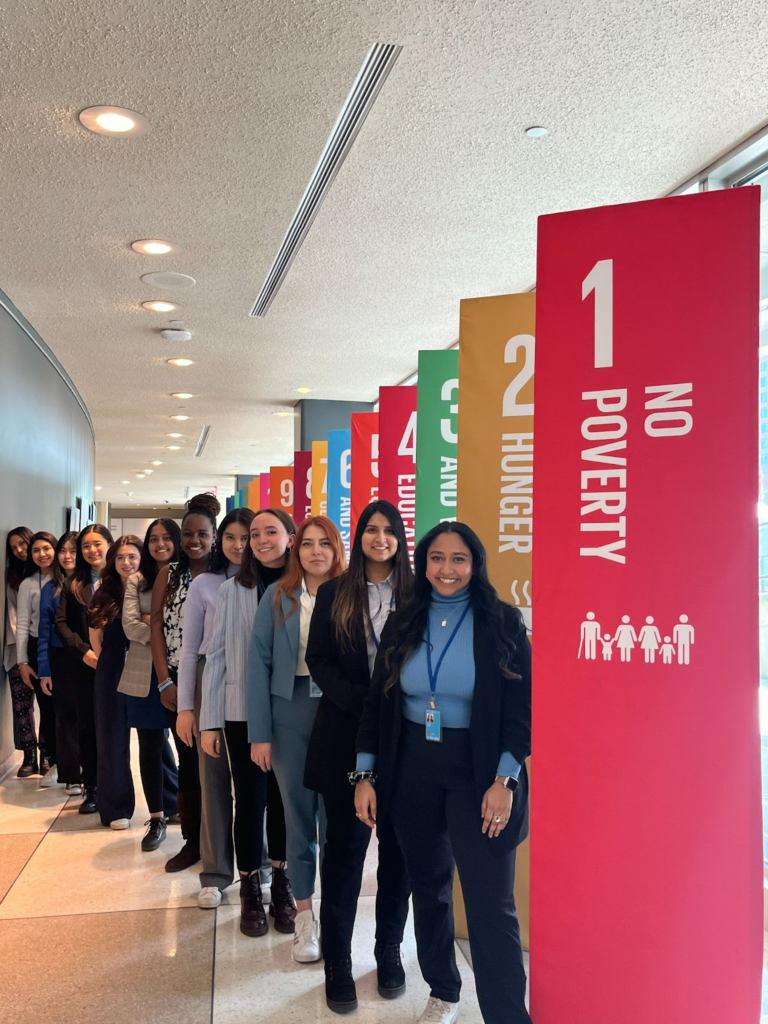 On the right: Alysha Alva, the Global Head of Public Relations for AIESEC International 2023, with the AIESEC delegation at the UN Women CSW67 Conference
One of the crowning achievements for AIESEC at the UN Women CSW67 Conference was securing a speaking engagement for AIESEC International. Alysha Alva, the Global Head of Public Relations for AIESEC International 2023, delivered a powerful speech addressing world leaders on the importance of leveraging youth-focused non-governmental organizations to provide greater opportunities for young women and girls. She showcased the inspiring story of an AIESEC member from Nepal, highlighting the transformative impact AIESEC has on empowering youth.
Alysha Alva Global Head of Public Relations, speaking at the United Nations Headquarters, New York. Curious to watch the recap of the session? Watch it here
The UN Women CSW67 Conference was a resounding success for AIESEC. The organization shattered engagement records across social media platforms, attracting a wide audience and sparking meaningful conversations. As we eagerly look forward to the upcoming United Nations' ECOSOC Youth Forum, AIESEC remains committed to advancing its initiatives, advocating for youth empowerment, and fostering impactful change worldwide.
About AIESEC:
AIESEC is the world's largest youth-run organization, dedicated to developing leadership potential in young people through international exchange and volunteering opportunities. With a presence in over 120 countries and territories, AIESEC provides a platform for young leaders to engage in cross-cultural experiences and contribute to positive societal change.
About UN Women CSW67:
UN Women CSW67 is a globally recognized conference organized by UN Women, dedicated to advancing gender equality and empowering women. It brings together key stakeholders, policymakers, and youth leaders to engage in crucial discussions, share best practices, and promote transformative actions. With a focus on achieving women's rights and addressing gender gaps, the conference serves as a catalyst for mobilizing efforts and driving policy changes to create a more inclusive and equal world.
For more information, please contact: Alysha Alva, Global Head of Public Relations for 2023, AIESEC International alyshaa@ai.aiesec.org
22