Klarna is our new Global Partner in AIESEC. We want to show you what's like to work at Klarna. Have you ever try it?

Get to know Klarna by the eye of an AIESECer:
We introduce you to Shifan Mihilar, Delivery Lead for Klarna's Media Domain, from Sri Lanka. Within AIESEC, Shifan was:
Local volunteer during 2013 from AIESEC in Colombo Central.
Executive Board managing the incoming Global Volunteer program.
Was also National Board of AIESEC in Sri Lanka during 2015.16, managing the incoming Global Volunteer program at national level.
Support team for the AIESEC's Regional Office Asia Pacific.
Took an AIESEC internship at Electrolux as Junior Project Manager.
Here we want to share with you a short interview with him about his experience.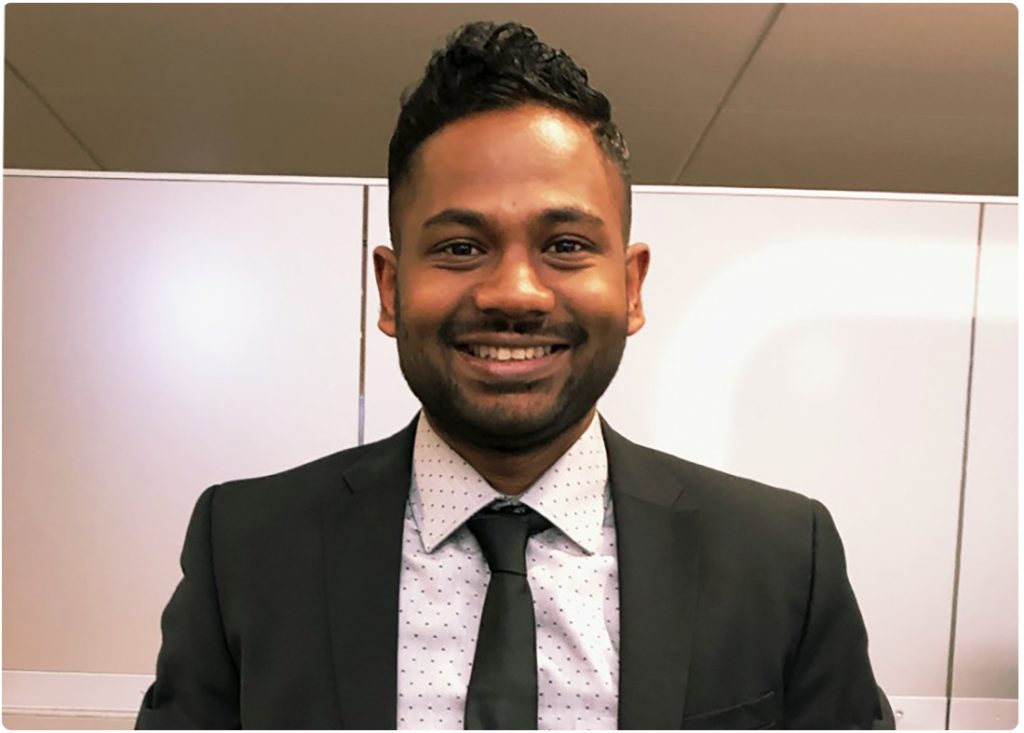 "I'm in Klarna Because of AIESEC."
1. What was your first impression of Klarna?
I knew of Klarna since I first arrived in Sweden, so even before I joined the company, I was a  user for 4 years. 
I actually followed, at least from a consumer point of view, how Klarna was and is changing and how the different Klarna products are improving. From that consumer perspective, I was very impressed. But then I also knew that it was a fintech company and I saw the marketing campaigns they did with Snoop Dogg and A$AP Rocky, and this actually gave me a completely different vibe to what I previously thought of Klarna,  as this was something that I haven't seen before at any other banking or fintech company. Even passing in front of Klarna's office in Stockholm and seeing its colors, images, and vibe, it's so different from what you would normally associate with a bank. It's just Klarna.
When I was looking for a change, I immediately thought of Klarna as a potential employer.  I had some friends already working there and they all had very good opinions and recommendations on the company, so I decided to apply. 
The application process was something I hadn't seen in any other company up until that point, from start to finish. Just going into the career website, I could get a complete sense of what Klarna is,  their Leadership Principles, their ways of working, the employee's personal stories. All of that in combination with their speed, the pace of their growth, and their increase in popularity made me really want to try out applying and working here. 
I also thought the interview process was really fast and professional – after one month I already had an offer. The interviews were really good,  I didn't even feel they were interviewing me, it was more like a conversation. That's when I felt that Klarna was different.
2. What makes Life at Klarna unique?
I think there are two things: one is the speed and innovation, and the second is how you as a person contribute and adapt to that. As we're constantly innovating at a rapid pace, as an employee I need to adapt to that pace and I need to contribute proactively.  That offers a good learning experience, which I haven't gotten anywhere else. That also means that you're continuously learning and growing yourself. 
Also, I think the people and what we're trying to do as a company is unique, there are other fintech companies and new Buy Now Pay Later services, but the value proposition we're bringing to consumers is unique –  we want to leverage the purchase experience and offer more than a service, and we are always exploring different approaches to deliver what our customers want. 
3. Who are some of your biggest inspirations within the company?
My biggest inspiration is my Domain Lead, Luke Tuttle (Global Head of Klarna Media Services). My domain is pretty new, started on January 1st, 2021 and he was the only team member when it started. Now we're one of the biggest domains at Klarna. 
The way he leads our teams and the way he presents himself as a leader is so inspiring.  Even if I don't work by his side day by day, the way he motivates us and speaks his truth is something I really value. All the teams in my domain are proactive and always willing to follow his vision. How he handles the domain vision and drives the operations is inspiring.
4. How has your time at Klarna supported your development?
One major thing is that Klarna has helped me realize what my strengths and weaknesses are at an early stage because when you work for a company for a long time you get so used to their culture that getting used to a new one can be hard, but that was not the case for me here at Klarna.
From day one I was involved in real problem solving and supporting teams to deliver. I also learned things I didn't know before while expanding my knowledge on some things I had previous experience in, such as the agile way of working. 
The Klarna way of working and our structure have helped me to grow and develop.  Here is all about people. It doesn't matter who you ask something to, they will always try to be helpful, and even if they don't know the answer, they will guide you in the right direction or share information.
Also, I think Klarna is big on transparency and the way internal information flows, which means I can get information at any time. I appreciate the way information is downscaled from the top-down. For example, the spaces with the CXOs are super nice and are not something I was used to, like Sebastian Siemiatkowski (our CEO) having a weekly 15-min live stream where he shares what he's up to and what's going on at Klarna. It is what inspires me because you hear information directly from the CXOs in regards to the company's vision and the direction where we're going. It's exciting because what we're trying to achieve is always going to keep you on your toes, we need to be up to the challenge.
5. Any advice for people interested in joining Klarna?
I think they should go for it, it will just require some preparation. The first thing is to learn about Klarna and the Leadership Principles –when you go to the career page you get a sense of what Klarna is and how we work. You will of course need your hard skills, but at Klarna it is more important to have communication skills and people skills at a good level, so you can function on a high level. Having a great cultural understanding is important, as we have different backgrounds and nationalities. Even if you don't get selected, you'll get a lot of information from the process, you'll learn a lot about yourself. Do your homework and you'll still learn a lot.
Go for it!
If you're interested in joining our partnership as an intern, go to aiesec.org and find out our opportunities.
18